---
Coral Springs Montessori School & Kindergarten
Welcome to Coral Springs Montessori School where we believe every student is unique and endowed with limitless potential for excellence and success. We teach children to thrive to their fullest potential. The "absorbent mind" of a child in action as they learn and progress at their own pace, is what makes our curriculum one of a kind; meaning children are not forced or rushed in their lessons.
Our Montessori curriculum is based around the methods to teach children a revolutionary method of observing and supporting the natural development of children that has been tested world-wide for over 100 years.
Coral Springs Montessori has been around since 1991, we are neither a chain nor a franchise. Schedule a Tour today! to see how Coral Springs Montessori School might be the right fit for your child.
Why Choose CSMS ?
---
What makes Coral Springs Montessori School unique?

---
Our classrooms are child-centered environments, carefully prepared with attractive, durable and developmentally appropriate hands-on lessons.
---

---
Kindergarten children and children participating in the Florida Voluntary Pre-K (VPK) program must attend 5 days a week. Half-day and full-day schedules are offered.
---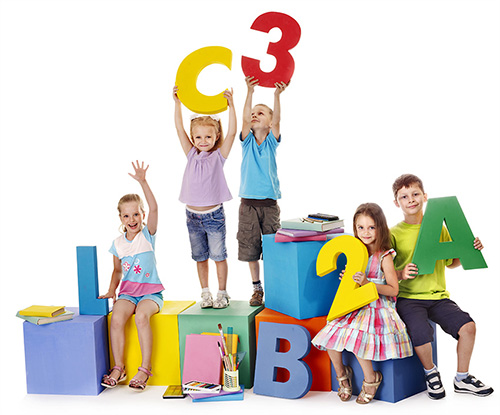 Preparing The Students For Life Since 1991
---

---
"Coach Joe" visits to teach sports and sportsmanship. Gross and fine motor skills are developed using all the various, developmentally appropriate apparatus
---

---
There are numerous science lessons in the classrooms: rocks for matching, parts of animals and plants, magnetic vs. non-magnetic, the solar system, sink.
---
Coral Springs Montessori Reviews
---
Radhika Agrawal
15. July, 2020.
This school is really good for us. My daughter love it, the staffs is so special, Miss Jennifer is a special person, the teachers are great, in special Miss Cecilia y Miss Marcela. Also every staff is managed for tha great people, Miss Radhika. we love this school, our little one learned a lot and I enjoy all the year that she was in CSM. We recommend 100%. we will miss the CSM.
Elianeth Fernández (Hola Eli TV elianethf)
2. June, 2019.
Amazing school. Love the green door teachers!!! Definitely recommend this school!
David Lemelman
1. February, 2019.
I love CSM! The staff is very nice and helpful; they go above and beyond to provide a safe environment for the kids to learn and grow. My son started when he turned two, and as a first-time mom sending my kid to school, I was very apprehensive of the transition. They (the school director Miss Rhadika, Miss Jennifer, Miss Ximena, and Miss Daisy) were very supportive; understanding, and they gave me a lot of reassurance. On top of everything, my son loves the teachers and the school. I am very grateful for them.
Leisha Quinones
17. January, 2019.
Daisy Vazquez
16. January, 2019.
Couldn't be happier with this school! The incredibly competent and positive staff and teachers make it such a happy place to take my kid. I've seen my child learn so much in such a relatively short time. He adores his teachers and has made some wonderful friends. The VPK program is excellent and the Montessori education is a great fit for our family. Thank you CSM!
Emma Knight
16. January, 2019.
Jennifer Procopio
24. November, 2018.
Gert Buis
22. November, 2018.
My son loves this school. He only attends the VPK program but in two short months, I've seen so many positive outcomes in my son. I don't have to ask him to do his schoolwork; he will do it himself and it's almost spontaneous. He is more independent, and he looks forward to seeing his friends at school. Thank you to all the ladies at the front desk and special thanks to Ms. Cecilia and Ms. Marcela. Ms. Cecilia is an amazing, amazing teacher! I don't think my son will ever forget her or his time at CSM. Thank you so very much!
Vamini R
29. October, 2018.
Richeal Rimos
13. September, 2018.
Best school! My daughter loves it there. She started at 18 months and is graduating from VPK this year. Her reading is through the roof and her love of learning is for surely credited to her teachers here. We love Ms. Lima. She is positive, caring, organized, and passionate about her role as a teacher; she is a great communicator and encourages the children to learn in the most fun and inspiring way!

My son has had a great experience at CSM! He gets so excited by the things he learns in class that he wants to continue learning more at home. The teachers are wonderful. I highly recommend it!

Such a great school. My son is thriving there. The teachers and office staff are beyond amazing. The fact that it is in a strip mall may throw you off, but the quality of care and education inside the school is unparalleled!

I love coral springs Montessori school, both of my kids goes there and they love it. The Montessori method is the best, My son is only 4 years old and more than ready for kindergarten, he can read and even does additions. Mrs Otero and Miss Bart are excellent teachers, very caring and patient, my son adores them. Miss Maira is very sweet and loving, my daughter love going to school because of her and she's learning so much. This school really exceeds my expectations, and I recommend it to anyone who's looking for a great school. As a parent I'am very happy with Coral Springs Montessori.

My daughter absolutely loves this school. The staff is very caring. My daughter has learned so much! I'm really happy with this school and recommend it to all.

Coral Springs Montessori is such an amazing fit for my daughter. Being a stay at home mom to my girl made it very difficult for me to trust her in the hands of others. When I did the first tour of the school, my daughter was visibly comfortable- and so was I. The facility is clean, not crowded with kids or adults, its functioning, and the staff is AMAZING. My daughter couldn't be happier at this school and I'm SO happy this was her first school experience. I cannot say enough wonderful things about The Red Door teachers (ms Judy, ms Courtlin) who make my daughter's day so wonderful- everyday that she is there. I would highly recommend CSM to any parent looking for a school for their children.

We love Coral Springs Montessori School! My son started there when he was 2.5 years old and starts kindergarten in August. He is more than prepared. I love how the classes are mulitage and use manipulatives for learning. The teachers and staff are very warm and loving. I highly recommend CMS!! If there is ever a time to invest in your child's life it is now!! Best decision!!!

My son is thoroughly enjoying his time at CSM! I love the Montessori way of teaching and the staff here have been a blessing! Not only to my child, but to our family as we've transitioned after moving to Florida. These ladies have a heart for teaching and my son beams when he talks about his work and his teachers. They foster an attitude that he carries home and we can tell that our son is excited about learning!

As a mother, I can genuinely give credence to the warm and inclusive environment of the Coral Springs Montessori School! My 5 year old son loves it there. He loves his teachers there in red door who have truly made it their priority for him to thrive academically and socially! As an educator, I can indeed attest to the professionalism and preparedness of the instructors and staff there at Coral Springs Montessori. To the school and everyone there who work together tirelessly to keep this institution of learning running fluidly, highest recommendations!

Amazing staff, they are like family to my daughter and I.

Adam C. Altman We cannot more emphatically recommend Coral Springs Montessori (CSM). Our son has progressed exponentially in just the six short months he has been attending CSM, and we cannot wait to see how much more comes about. A neighbor who recommended CSM and whose own son loved the school could not have offered a better recommendation to us, which we now share with readers here. Members of our family who weren't as familiar with the Montessori method prior to our enrolling our son at CSM may now be even greater advocates of its methods than those of us who were already familiar with the Montessori method!
From the staff and educators to programs and methods, parents would do themselves & their children a disservice to not at least visit and consider CSM when looking for quality early childhood education & care.
If cost is a particular concern, we found that daycare facilities in the area that don't do for children what CSM does do for children tend to cost just as much, sometimes even more, making CSM an even smarter choice.

This school is amazing. My daughter is attending the VPK program here. Mrs Otero and Ms.Barr are wonderful teachers. They truly care about the kids. Ms Garcia is wonderful and was great at assisting in making my daughter feel comfortable from separation anxiety in the first few weeks of VPK. My daughter now has a love for learning and was reading at age 4. We are amazed at how much she has learned in such a short period of time. She can't wait to get to school each day and doesn't want to leave when the day is over. They also offer great after school classes such as singing and art. She talks about how much she loves her teachers all the time. I highly recommend this school ..She is more than ready for kindergarten.

Talented teacher who works very hard with kids and true Montessori school in the area.

Having just moved to Florida, I knew nothing of the area schools and knew no one to ask. I relied on people's reviews on the internet for information. After narrowing my choices, and visiting three schools, I decided on Coral Springs Montessori. I couldn't be more pleased or happier with my choice. My son has blossomed this year. He has learned so much in the Red Door Classroom with Ms. Lima and Ms. Seer. Every day he comes home with something new he can't wait to tell us. Many of the lessons are taught in such a fun and interesting way, he doesn't even realize he is learning. Each child is assessed and taught lessons based on their ability. Since every lesson is different, no child is singled out or made to feel inferior. My son went from not completely knowing the alphabet to reading books. If he sees a word he doesn't recognize, it could be a two or three syllable word, he sounds it out. He is doing addition too. He is more than ready for Kindergarten. My child, my husband, nor myself has ever felt unwelcome. The focus is on the children. I have never felt they were more interested in the money. In fact I have felt the opposite. I highly recommend this school to anyone with a child going into Pre-K.

Coral Springs Montessori promotes your child's development, including laying the groundwork for a solid start for your child's future. The staff at Coral Springs Montessori genuinely cares about your children and their development. The staff engages and communicates well with parents. The school is very clean and the staff ensures that the children practice good hygiene habits. I admire the Montessori style of teaching and am very impressed with what my daughter is learning there, socially and intellectually. I am really happy with CSM.

My children were very lucky to be associated with this Montessori school. They learnt not just academic but also conduct and manners. Under the leadership of Ms.Bertelli children got individualized attention. She has memorized each child's ...More

Coral Springs Montessori is the best choice you can make for your child! My son was totally transformed, just in a few months from being naughty, now he is organized, cleans after himself and knows so many new things. Thank you so much to the Red Door teachers - Mrs. Judy, Mrs. Karen, Mrs. Evelyn, Mrs. Mladenovich, you are amazing, thank you for taking such a great care of our kids. Mrs. Gracia - you are the most positive person at the front desk and always helpful!!! Thank you to coach Ross - Kid Surge, Monday is my son's favorite day! Thank you so much to the director for organizing all the great events and the awesome new playground! To the person who reads this review - do not hesitate and make a tour at the Coral Springs Montessori School!

Both my kids are a part of Coral Springs Montessori.....i couldn't have asked for a better school to start their life. Montessori laid the foundation for their education, behavior and confidence to face all the hazards of life. I as a parent is totally focused on education and want the very best for my children.....Montessori introduced math's , science and all knowledges so beautifully and at such an early age that it had a profound effect on the growing minds of my children. This lead to the thirst for knowledge and i can see the results as they are growing up. They also introduced phonics and reading at a very early age......so where parents struggle for the kids to start reading...the teachers of Montessori through their patience and skill nurtures each child and challenge their potential. The Director, teacher and staffs are so friendly and so easy to communicate that Montessori is my kids second home. Each morning as i go to drop my child to School i get greeted my a wide smile by Gracia ....she brightens up every ones day. Radhika as a Director is just fabulous and she has brought so many positive changes to Montessori...that it now more warm and welcoming. My kids were both in Green Door .Mrs. Ottero and Mrs.Bars are awesome teachers....no one could have cultivated the values they have put in my children. They are always smiling and willing to explain whatever and whenever you need them .My son is in 4th grade now...and now also he loves to go back to Green Door to meet his teachers...in fact he says they are his best teachers till date. My daughter is leaving Montessori in May and already I am very sad . But I know that Montessori will always be a part of our life. I just want to say a big Thank You to Montessori for making my kids confident to face the world and laying the base for being a beautiful human being.

My daughter loves the school; she is happy every day in red door. Great staff.