Welcome to Coral Springs Montessori Early Education...
Please take a moment and view our Montessori education, meet our teachers, take a look into what a day in the life of a student looks like at our Montessori preschool. In our classrooms, we teach children to thrive to their fullest potential. The "absorbent mind" of a child in action as they learn and progress at their own pace, is what makes our curriculum one of a kind; meaning children are not forced or rushed in their lessons. We follow the child's Individual readiness.
"The environment must be rich in motives which lend interest to activity and invite the child to conduct his own experiences."
― Maria Montessori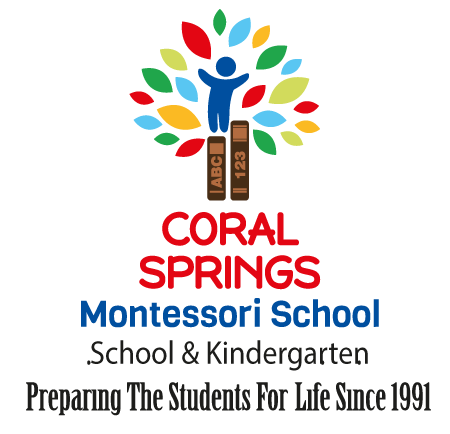 ---
Dear Parents,
Welcome to Coral Springs Montessori School where we believe every student is unique and endowed with limitless potential for excellence and success. Again, I invite you to visit our beautiful Montessori School located in Coral Springs. See how Coral Springs Montessori might be the right fit for your child. Visitors to the classrooms are often struck by the inspirational surroundings, the kind and respectful guidance of teachers, and the infectious curiosity displayed by self confident and motivated students. Our Montessori curriculum is based around the methods to teach children a revolutionary method of observing and supporting the natural development of children that has been tested world­wide for over 100 years. Montessori educational practice helps children develop creativity, problem solving, critical thinking and time management skills, care of the environment, and compassion. It prepares them to contribute to society and to become fulfilled persons.
The basis of Montessori practice in the classroom is mixed age group, individual choice of research and work, and uninterrupted concentration. Because children enjoy their work they remember what they learn. Montessori Coral Springs has been around since 1991, we are neither a chain nor a franchise. We know you will have hands on management from our owner, director and certified Montessori Teachers. For me, it is important to develop a partnership with you, so that our children can achieve their highest potential. A strong partnership will make a difference in your child's education. The pre­school years are the first step in your child's development. Together, we will work to build a strong foundation for your child, one that will help him become a lifelong learner.
For more information on Montessori Method, please feel free to visit the American Montessori Society at:
(source) www.amshq.org
Sincerely,
Jill Corsi
Director
954­344­0027
[email protected]